Any decorative item that can also be a useful item is the best of both worlds. Country apple serving trays are just that. For a country apple kitchen theme, serving trays make fun decor items. But, they make great functional items as well.
The design of country apple makes a charming kitchen look. Warm, inviting and cheery. So the addition of accessories that carry the theme throughout the kitchen is ideal.
The Look of Country Apple
Traditionally, the look of an apple theme is either a red or green as the main color. But, the intermingling of both colors works great in a country kitchen style. Things like red apples on a green plaid background brings out a country effect.
A country look can also include warm browns and tans. Both the red apple and the green apple look great against brown or tan colors. A country effect is about bringing back the look of the past, and warm colors are perfect for that.
I always like to think of Gramma's kitchen with a country look. Lots of wood furniture, plenty of fabric accents and the smell of apple pies fresh from the oven.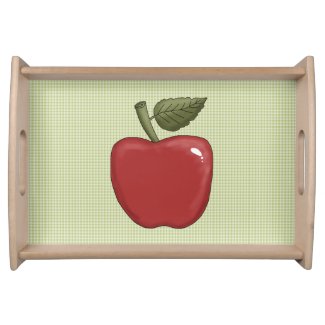 Apple Service Trays
by
Country1969
Look at additional
Food Trays
at Zazzle
Country Apple Serving Trays
We all know how valuable serving trays are in a kitchen. One trip with lots of goodies on the tray beats 12 trips with only two hands. As long as you're going to make use of serving trays for function, why not make them part of your apple kitchen decor as well?
These country apple serving trays are available in two sizes and in a natural wood finish or a solid black finish. These are your choice for every design.
Serving Trays for Decorative Double Duty
Using serving trays is one thing, but how can you make use of them for decorating your apple kitchen? My favorite way is to set the tray upright in a corner of my counter. I add one or two other apple decor items in front of it.
First, that holds the tray up so it won't slide down on the counter. Second, my country apple serving tray becomes part of a decor vignette in my kitchen. The tray adds to my decor, but is also handy to grab when I need to use it for serving.